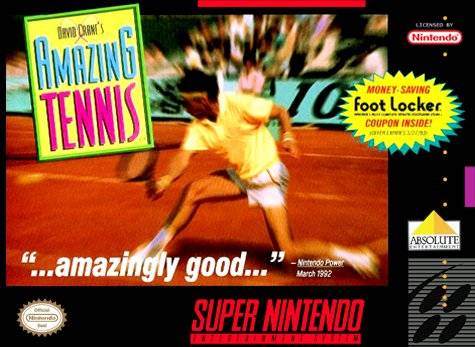 In my last blog post I told you about my experiences starting out in the video game industry. This time I'm going to focus on how to design video games and to do it without a college degree. Yes it is possible to design video games without ever going to college.
Matter of fact, many video game designers have never graduated college. Out of the 6 video game companies I worked for, 2 of the CEOs never graduated college, one of them did but that was well after he became a CEO of a video game company that made over 100 video games.
For example in the picture below, the three owners of Absolute Entertainment Inc., never graduated college. The two on the right did go to college well after they started in the industry and well after they designed and programmed many games for Activison, but they didn't need a college degree to get to where they were at this stage in their career.
I'm not saying a college degree isn't important. I'm saying it is not mandatory, that you would need one to design a video game. NOTE: If you look on the wall where there are 2 Game Boy signs, the guy below them with the white diamond on his shirt is a younger me.
If you are creative and you know what it takes to make a video game fun, then you can be a designer. You do not need to go to college for something like that. If you want to program the video game, then yes, you will need to go to college. But to think of a game design and how it should function within the abilities of a particular gaming platform, all it takes is a creative mind and a company that will give you the opportunity to design it.
HOW TO GET YOUR OPPORTUNITY
The best, and in many cases the only way to become a designer without a college degree is to get a job in the industry as a full time tester. The majority of video game companies promote from within and they will most often make former video game testers into designers. Do you know why they would do that? The answer is pretty obvious…right?
As I told you in my last blog post I was asked to design two video games early on in my testing career. Both times it was because there were not any designers available to be paired up with the programmers that were contracted to code the games. Why did the CEO come to me to design these games?
The answer is the same for the question I asked you above. It's because no one knows better as to what makes a video game fun than someone who plays a lot of video games, and the people in a video game company who play the most are the testers.
MY NEXT DESIGN OPPORTUNITY
While still being a QA Test Manager I was called upon again to design another military style game, but this time for the NES called Flight of the Intruder. Imagineering, Inc. developed this game for the company called Mindscape. This game, see below, came out in 1991 around the same time as the movie of the same name with Danny Glover and Willem Dafoe.
This became my 4th favorite retro game because it was one of the first of two Nintendo flight simulator games that Imagineering Inc. had developed, that was a fully smooth 360 degree spherical experience. If you wanted to have a true dogfight by looping, rolling, or banking upward until inverted and then adjust, you could do that with this game on the NES.
My part in the design of this game was to come up with the missions and the combat situations both in the air and for the ground attack. I was also tasked with designing how the landing sequence would play out. Originally I wanted to do it in a "first person" view but because of the limitations of the NES it didn't look smooth enough. Because every other part of the game was smooth I didn't want the landing to look clunky so I had to come up with a side scrolling design instead.
This is a perfect example why you need to be aware of the abilities of the platform you are designing for and have a creative enough mind to come up with alternative solutions to your design. This is something that comes naturally by playing a lot of games. This is not something you need to go to school for.
MORE RETRO GAMES I HELPED TO DEVELOP
Then in 1992 I got the chance to design another game but this time it was for the Super Nintendo and it was in another genre that made this my next favorite retro video game. This game was called ESPN Sunday Night NFL, see below.
Yes there isn't much to design when it comes to a football game. However Sony Imagesoft, the publishing company Imagineering Inc. was designing this game for, gave us audio and video footage of Chris Berman and imaging rights as well as up to date stats from the NFLPA . So I designed how all of the pre-game navigation would look and function as well as all of the plays. I was given full authority to design it any way I wanted to.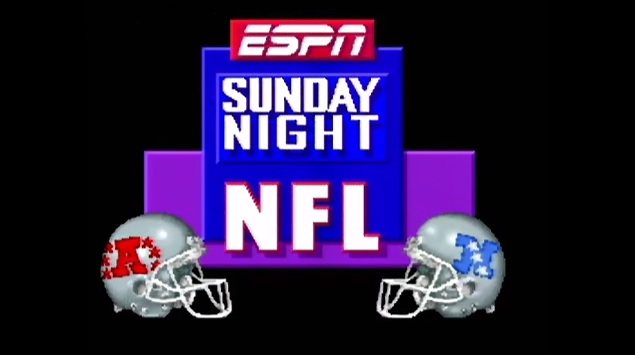 Being given full creative liberty was awesome! What made it even more fun was that both the programmer and the artist on the design team were football fans and lovers of great ales. We had many a design sessions at our favorite local pub and restaurant just a 4 minute walk down the street from our office. A one hour lunch and design session often turned into a 3 hour affair. LOL
Another great thing about these alcohol infused design meetings were that the owners of the company didn't mind. We were always productive, always coming up with some great design ideas that the publisher was absolutely loving, and we never came back to the office totally trashed. How we were able to pull off that last feat, I still do not remember.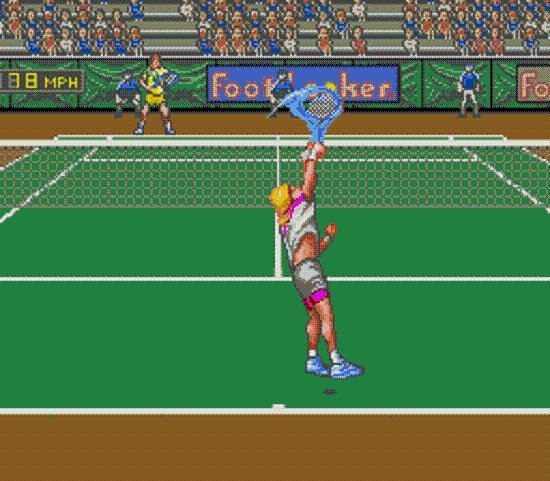 Also in 1992 I was into watching tennis and my friend and former coworker David Crane, came out with Amazing Tennis for the Super Nintendo, see above. I never liked playing the tennis games on any of the game consoles until this game. Mainly because of the more realistic view and simulated 3D aspect that David designed for the game. This became my next favorite retro game.
I also remember that Absolute Entertainment's marketing department set up a deal with the sporting outlet Foot Locker. We would give them some free advertising in the game if they would honor a discount coupon to be inserted into each game. Unfortunately none of us employees could have taken advantage of that coupon. Too bad because I had a few hundred dollars in coupons sitting in boxes right next to my desk.
I LOVED CES IN LAS VEGAS
I remember demonstrating Amazing Tennis at the Consumer Electronic Show (CES) in Las Vegas in 1993. Absolute Entertainment, Inc. had hired these 2 really hot looking models dressed up as tennis players to greet the sales reps and buyers from all of the major toy and video game stores that would come to our booth for meetings.
There was this one model, don't remember her name but I remember that gorgeous face, she absolutely loved the game. When I would teach her and show her how to play the game, she would stand sort of behind and to the side of me that made it very hard to concentrate on the game. Boy did I LOVE my job!
That was another great thing about being in the testing department, I always had the opportunity to go to CES every year all expenses paid. Round trip airfare, hotel accommodations, and enough expense money for breakfast, lunch and dinner. Plus I had full use of the rental mini-van because I know my way around the backstreets of Las Vegas, being that I used to have friends that lived there. So I was always the one who would drive anyone back and forth between CES and the hotel.
In my next blog post I will talk about some of the fun and crazy times I had while being in the video game industry. Things like the Friday Happy Hours I used to arrange every week, the Nerf Gun Capture the Flag games after hours, some of the celebrities I've met, and mention a couple more retro video games that became my favorite. Stay Tuned! If you have any comments, questions or feedback on this post, please leave them below and I'll reply within 24 hours.